Howard Riina, MD, MPhil, FACS, FAANS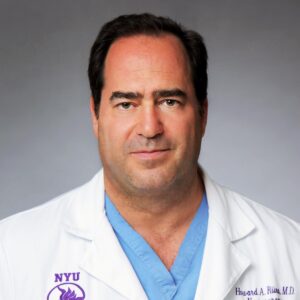 Howard A. Riina, MD, MPhil, FACS, FAANS
Lucius N. Littauer Professor and Vice Chairman
Department of Neurosurgery, NYU School of Medicine
Director, NYU Center for Stroke and Neurovascular Diseases
Director, American Board of Neurological Surgery.
He received undergraduate degrees from both Franklin and Marshall College and the University of Pennsylvania. He graduated from Temple University School of Medicine. He also obtained an M.Phil in Neurobiology from the University of Cambridge.
He completed his surgical internship and trained in Neurological Surgery at the Hospital of the University of Pennsylvania under Eugene S. Flamm, MD and Sean Grady, MD. Dr. Riina has completed two fellowships: Endovascular Surgical Neuroradiology under Alejandro Berenstein, MD and Cerebrovascular and Skull Base Surgery under Robert F. Spetzler, MD. Dr. Riina is an internationally recognized expert in both the surgical and endovascular treatment of cerebrovascular disorders of the brain and spinal cord.